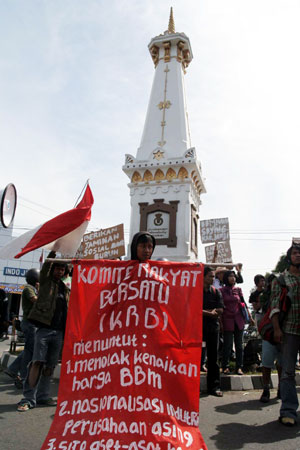 Harian Jogya - April 27, 2012
Komite Rakyat Bersatu: 164 Warga Jogja Dukung Kenaikan Harga BBM - Harian Jogja. Jumat, 27/4/2012.
Akhirul Anwar/JIBI, Jogja -- Scores of people from the United People's Committee (KBR) held an action in front of the Beringharjo Market on Jl. Ahmad Yani in the Central Java city of Yogyakarta on the afternoon of Friday April 27.
The protesters brought a banner with the message: "Plenary Meeting: Lies, the price of fuel and staple goods will still go up, people of Indonesia, let's unite and seize power for prosperity", referring to the House of Representatives meeting last month that postponed the planned fuel price hikes.