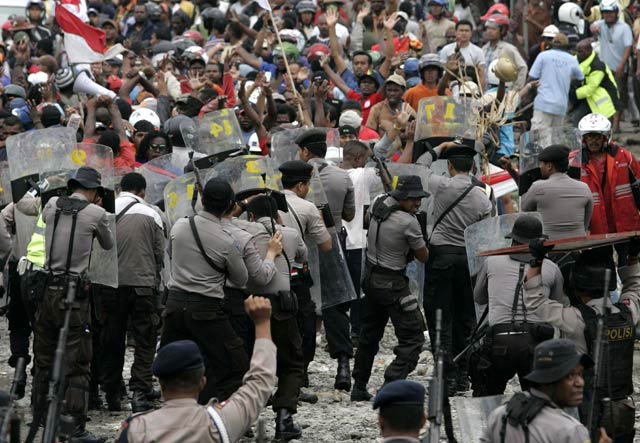 A demonstration involving thousands of mine workers at Freeport-McMoRan in Indonesia turned ugly on Monday, with police firing warning shots and one protester killed, a union official said.
The demonstration involving disgruntled workers seeking better pay and conditions was at East Timika, in West Papua province.
"The victim is dead in the regional government hospital," said Virgo Solossa, a union official.
He did not say how the protester had died.
About 12,000 of Freeport's 23,000 Indonesian workers have joined the strike that started on Sept. 15, reducing mining, processing and concentrate shipments from Grasberg, the world's third-largest copper mine.
Unionized workers decided on Thursday to remain on strike until Nov. 15, making this the longest stoppage in Indonesia's mining industry.
Late last month, the company said about 4,200 workers at the mine, mainly contractors and non-union staff, had returned to work, allowing some mining to resume.
Reuters
__________
Freeport strike turns deadly
Nethy Dharma Somba Rangga D. Fadhillah, The Jakarta Post, Jakarta/Jayapura | Tue, 10/11/2011 9:29 AM
A PT Freeport Indonesia worker named Petrus Ayamiseba was shot dead when the police fired warning shots to stop protesting workers from entering Gorong-Gorong bus terminal in Timika, Papua, on Monday.
The local subsidiary of US mining giant Freeport-McMoRan Copper & Gold Inc. provides buses at the terminal to transport workers to and from the Tembagapura mine site.
"The workers were walking and about to enter the terminal when suddenly we heard gunshots. Our colleague, Petrus Ayamiseba, was shot in left side of his chest and killed. The clash between workers and the police was inevitable," Freeport Labor Union (SPSI) spokesman Juli Parorrongan said.
In addition to Petrus, several other workers were injured in the incident.
"Philiton Kogoya was injured by a blow to the head with the butt of a rifle. Ahmad Mustofa was shot in the back with a rubber bullet. Melias Rumbiak was also hit in the head with the butt of a rifle. Charry Pesurnay suffered burns on his left hand from a tear gas canister. Leon Ngavulduan was injured by blow to his chest from the butt of a rifle and Alius Komba was shot in his stomach with a rubber bullet," said Juli.
Juli said a group of workers was walking toward the Gorong-Gorong terminal to board the bus to Tembagapura to stop a number of contract workers hired by Freeport from working, as thousands of workers were on strike. Before they arrived at the terminal they were blocked by the police.
"The company has hired contractual workers from outside to operate the mine ever since the strike on Sept. 15, although it is against the Law on Manpower. Our colleagues wanted to inform them that no one should work before the labor issues between the workers and the company management had been resolved," he said.
Juli added that he had received information that five company cars had been set on fire, but he did not know by whom.
Juli regretted the incident and demanded that those responsible for the shooting be legally processed and that the company be held responsible for the incident.
Freeport spokesperson Ramdani Sirait said the company regretted the disturbance at the bus terminal where the company provides buses to employees.
"We learned that a group of protesting workers and other individuals were walking from the SPSI office in Timika to the terminal to disturb the arrival and departure of buses for PT Freeport Indonesia workers."
The group attempted to enter the bus terminal, and the police responded by blocking their way, thus making them aggressive. "The incident led to the death of an employee, and several others, including police personnel, were wounded. They are currently being treated at a local clinic and hospital," Ramdani said.
Energy and Mineral Resources Minister Darwin Zahedy Saleh said that he had informed the President of the incident.
"From time to time the Coordinating Minister for Political, Legal and Security Affairs also monitors the latest developments there," he said, adding that his ministry had also deployed a team of expert staff to help settle the problem.
Diaz Gwijangge, a member of the House of Representatives from Papua, said in a statement on Monday that Freeport had committed a brutal act against its own workers. He urged the company to meet the workers' demands.
"I urge Freeport not to use security apparatuses, including police and soldiers, in handling rallies by its workers who are demanding their rights. Involving security apparatuses will only lengthen the list of its human rights violations in Papua," Diaz said.
Casualties around Freeport
Aug. 31, 2002
Rebel group Papua Independence Organization (OPM) shoot dead three Freeport workers, including two US citizens.
March 16, 2006
Protesters kill four police officers and one TNI officer during a street rally demanding Freeport closure
April 29, 2006
Seven people are injured and buildings and cars vandalized as police and mine workers clash near Freeport mine
July 11, 2009
A Freeport worker, who is an Australian citizen, is shot dead by an unidentified gunman.
July 12, 2009
Unidentified gunmen kill a Freeport security officer.
July 13, 2009
A police officer is killed by an unidentified man near a Freeport mine.
***
Pictures below added by administrator of this blog:
Petrus Ayamiseba, a worker shot dead by the police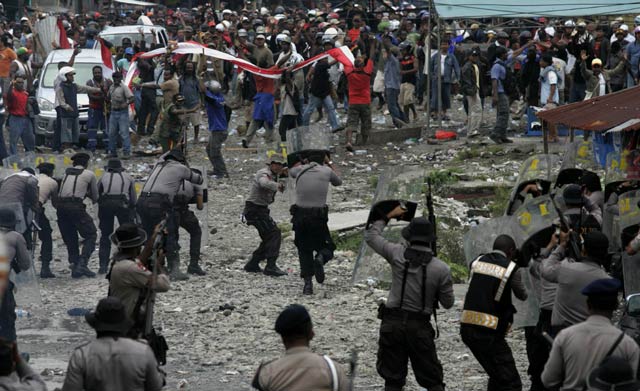 The situation prior to the shooting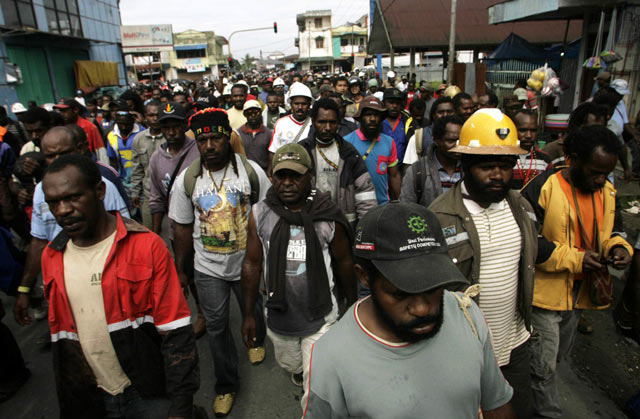 Mass protesters from 7 ethnics of Papua supported the workers' struggle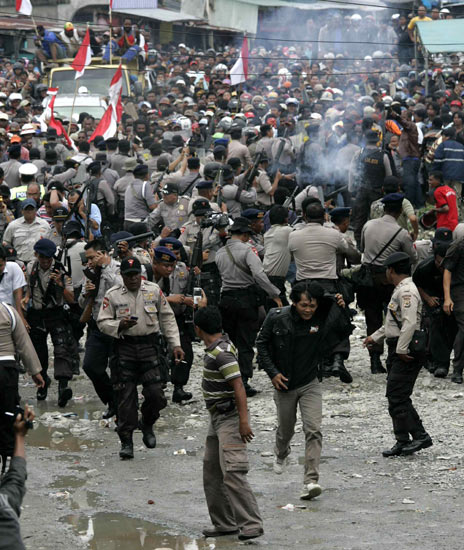 The clash in Gorong-gorong station, Timika, Papua